Zoom Online Yoga Classes, Winter 2022
The scheduled sessions run for eight weeks.
Gentle Yoga: Monday 10am – 11:30am PST
Monday Jan. 10 – Feb. 28, 2022
Level I/II : Wednesday 10am – 11:30am PST
Wednesday, Jan. 12 – March 2, 2022
IMPORTANT NOTE: There will be no classes the week of March 14 and 16. An additional three weeks of classes will resume from March 21 to April 6.
ATTENDANCE AND COST
Posting the link for the entire class session bypasses the need to send out links each week, but requires that classes be first come first served.  (Class size maximum is 100 so I don't believe there will be any difficulty in getting in!)   I recommend that you zoom in 10 minutes prior to the class beginning. 
Payment will be on the honor system with two options:
Class Fees
$12 for individual classes

 

$10 per class for 4 or more classes.

 

 

Discount is calculated at check out.
Due to the nature of zoom I may not always be able to see you on my screen. 
If questions arise during class you can type them into the chat which I may answer during  class if possible or after class.   
More Info & PURCHASE CLASSES
PROPS
Please set up near an accessible wall space with enough room for the narrow end of your sticky  mat.  If you have enough room for the wide orientation of your mat against a wall, that could be useful, but not required.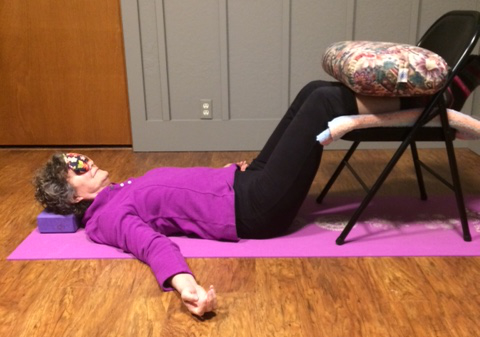 Please have at a  minimum:  
sticky mat
one 6 foot or longer yoga belt
two 4X6X9' foam or wood yoga blocks
3 firm cotton or wool blankets
One folding metal chair
Optional additional props 
Bolster
Eye cover
2 More blankets
Sand bags or weights