Special Report on 2019 Yoga in Paradise - Pele Edition
Aloha Everyone,
I'm certain that you have all been watching the dramatic volcanic events unfolding near Kalani. The lava crossed HWY 137 (the red road) on May 19 and is now pouring into the ocean about 6 miles north of Kalani!  This is generally seen as a good sign in terms of the lava having an exit, verses spreading further over land.  So now its a matter of when will this flow actually stop?  The longest flow, along one route back in 1955 lasted about 4 months. Kalani is closed now and they are saying they will remain closed through the end of June.  If they are able to reopen in July, then we should be good to go for January and have some amazing new land formations to explore!  If it looks like the closure will continue much longer than that, I will have to make some larger decisions at that time.
To those of you already registered for 2019,  If you are all comfortable with my holding your deposits, I will do so until we have a final decision.  Please know that should Kalani not be open for our business, you will receive your full refund from me, or you can transfer it to another retreat or workshop with me if you'd prefer.  (time will tell if we will have another option for this coming January).
Each of the three weeks booked for January 2019 is currently close to 1/2 capacity.  I am continuing to take registrations and deposits to hold space. (The registration form is on page 10 of the packet that  you can download on this page.)
Sending love and Aloha,  Lynne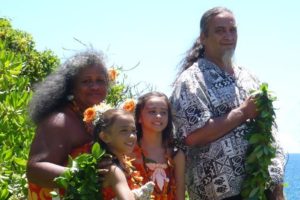 On a related note; our dear Dottie lost her home in Leilani Estates.  There is no lava insurance for homes.  If you are able to help in anyway, they are some of the most giving and loving people we know.  She is already helping others in this, her biggest time of need.  Mahalo everyone.
https://www.gofundme.com/hawaii-relief-fund
Yoga in Paradise 2019
At the Big Island's Kalani Honua Retreat and Wellness Center
For complete details, please download both the flyer and info packet PDFs on this page.
I hope that you can join us for one or more of the Yoga in Paradise offerings in 2019. Please note that it is required that you have had at least one year of yoga instruction to attend these retreats.
WEEK ONE: January 5-12, 2019. This will be an all level group with and easy to moderate pace, plenty of instruction in adaptations, and alternatives to postures as needed. Those with more experience will have opportunity for more challenge.
WEEK TWO:  January 12-19,2019 This will also be mixed level but with a more challenging pace and less break down of instructions. Students should know how to adapt their postures to suit their needs, especially for inverted postures.
WEEK THREE: January 19-26 will be a "PRACTICE and RELAX" or "Chillax" week. This is for students of one or both of the previous weeks (or by permission of the instructor) who wish to extend their stay at Kalani and enjoy a daily 1.5 hour yoga practice together. Afternoons will be free, for personal practice, attending Kalani offerings or simply relaxing.
Please read the full information packet for details and costs. 
 I hope that you will join us for a week, or two, or three!